Tiger Woods has given the strongest indication yet that he will tee it up as a rare playing captain in the 2019 Presidents Cup at Royal Melbourne.
Woods (United States) and fellow golf great Ernie Els (Internationals) were earlier this year announced as captains for the biennial event, to be held in Melbourne next December.
But 14-time Major winner Woods has declared he will accept the role of playing skipper — which has happened just once — if he is to earn automatic qualification for what will be a star-studded American team.
"If I am part of the top eight, yes, I will play," Woods told AAP in Melbourne.
U.S. team standings are calculated from FedEx Cup points accrued on the PGA Tour during a weighted two-year period leading up to the Tour Championship. Both teams will have eight qualifiers and four captain's picks, with the U.S. likely to feature superstars Dustin Johnson, Jordan Spieth and three-time Major champion Brooks Koepka.
Although his stunning injury comeback has him ranked No. 14 in the world, a 10-month surgery hiatus last year means Woods sits 16th on the U.S. team standings.
"It's still a year out from the event," he said.
But eight-time Cup veteran Woods also has the option to select himself.
The 42-year-old hinted he would remind the team of his Presidents Cup credentials – owning the tournament record for most points (six) won in singles matches.
"If I'm not (a qualifier), it's up to myself, the vice captains and the players (to determine) who we round out the team with," Woods said.
"If we think it's me, then how I can I best serve this team?
"Is it playing or just captaining? We're going to figure that out when it's time."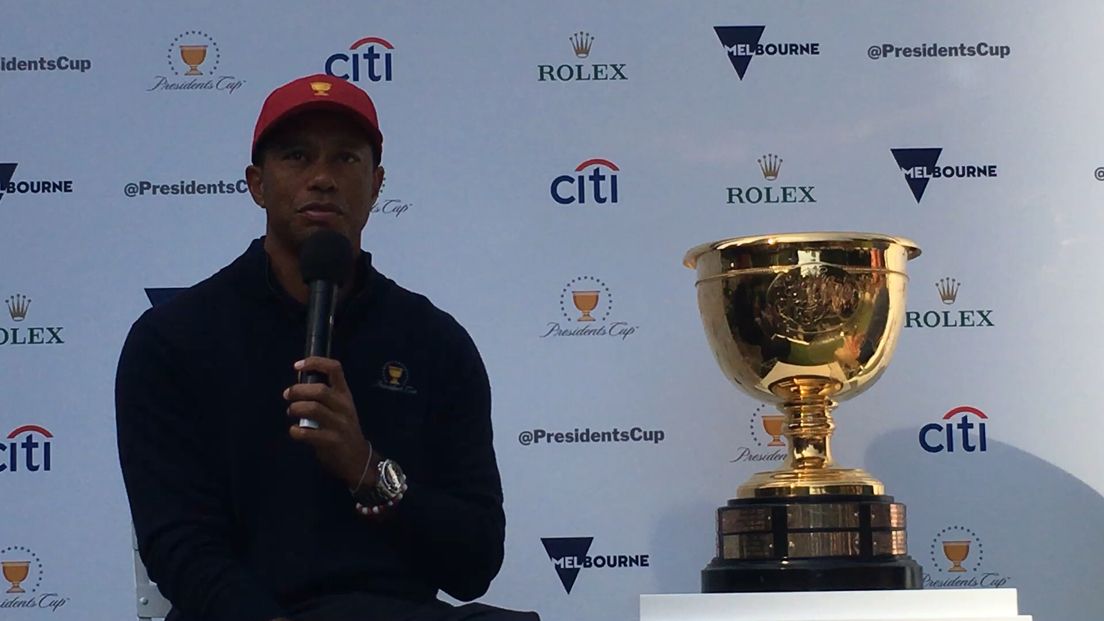 Tiger Woods on what to expect from Melbourne crowds … and its fickle weather 🤔
Only three-time major winner Hale Irwin has played the Cup as a captain when he performed dual roles in the inaugural 1994 event.
Woods, who claimed his 80th career PGA Tour victory in September, is in Melbourne on a promotional trip for next year's competition.
He made his Cup debut at Royal Melbourne in 1998 – the only edition the Internationals have won.
Woods also played the 2011 Cup at Royal Melbourne and said the iconic Melbourne sandbelt course hadn't changed in the seven years since he last visited Australia.
"It really hasn't; it looks about the same," Woods said.
"(Royal Melbourne) is one of the most unique courses you can play; it's so short, so fast and so tricky.
"But it's always been one of my favourite (trips) to come down here because we don't often get chances to play venues like this."