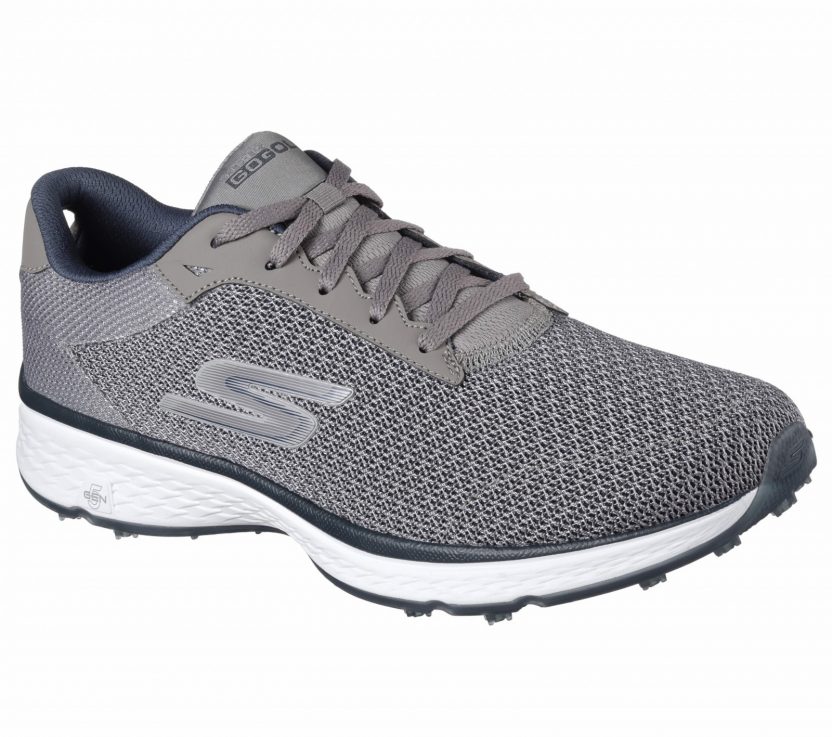 Skechers' 2019 Go Golf shoe collection for men and women introduces 13 new designs, including the spiked PRO 4 shoes worn by Matt Kuchar during his recent victory at the PGA Tour's Sony Open in Hawaii.
The 2019 Skechers Go Golf line continues to advance innovation and design through inspiration gained from the brand's market-leading running and lifestyle divisions, as well as through crucial insight and feedback from a roster of Skechers Performance tour pros including Kuchar, Russell Knox, Wesley Bryan, Colin Montgomerie, Billy Andrade and Brooke Henderson. The resulting collection blends total performance with out-of-the-box comfort built specifically for golfers and the golf course.
A key innovation for 2019 is the new Gripflex spikeless TPU outsole featured on the new Mojo models. This grip system boasts a combination of multi-directional cleats and lugs to provide superior traction and stability, all in a green-friendly design.
Skechers has also expanded its range of shoe widths and sizes, with the 2019 range offering new Relaxed Fit models, featuring a roomier forefoot section to suit those with wider feet, while the addition of new Plus Fit sizes 14-16 (EU 49-53) in the Elite 3 and Fairway models expands the benefits of the brand to those with larger feet.
NEW FOR 2019 – MENS
The 2019 Skechers Go Golf range offers nine styles for men, including five all-new designs outlined below. Returning favourites include the Elite Approach, Elite Approach LT, Elite V.3 and Fairway Lead.
GO GOLF PRO 4 & GO GOLF PRO 4 – HONORS (£139)
Worn on tour by Matt Kuchar, the Pro 4 boasts a full-grain leather upper, a sleek, low profile sole, ultra-lightweight cushioning and Resamax cushioned insoles. Grip is provided by a dynamic diamond traction plate and replaceable Softspikes cleats. A heel-lock feature prevents the rear portion of the foot from moving during the phases of the swing, while Skechers H2GO Shield technology provides the ultimate in waterproof protection. The PRO 4 is available in white, grey and black colour options, in sizes 7.5-13, 14, and in standard and wide fits. The Honors version of the Pro 4 offers the same technology but with a full-grain leather and knitted textile upper, and is available in black or charcoal grey.
MOJO ELITE & MOJO – PUNCH SHOT (£119)

The new MOJO series features two spikeless models that boast Gripflex sole technology, offering unparalleled grip and flexibility in shoes that can be worn on and off the golf course. Currently worn on tour by Wesley Bryan and Russell Knox, the Mojo styles feature ultra-lightweight cushioning, Resamax cushioned insoles, and H2GO waterproof protection.
The Mojo Elite is designed with a textile and full-grain leather upper, plus a central saddle for added lateral stability and mid-foot support and is available in white/grey, grey/graphite and black colour options. The Mojo – Punch Shot is designed with a full-grain leather upper for a more traditional look and is available in white with blue trim, black and in grey/light grey. Both styles are available in sizes 7.5-13, 14, in standard and wide fits.
DRIVE 4 & DRIVE 4 LX (£84) 
The Drive 4 is a more relaxed, trainer-style shoe aimed at players looking for a more casual look on and off the golf course, but still demanding supreme levels of comfort and performance. The sneaker style golf shoe features Ultra Flight cushioning, Goga Max technology insoles for high-rebound cushioning, and a durable rubber traction plate for grip. The Drive 4 LX is designed with a premium full-grain leather upper and Skechers H2GO waterproof protection. Both styles are available in sizes 8 to 11.

NEW FOR 2019 – WOMENS

Designed by women for women, and worn by some of the world's best female golfers on tour, the Women's Skechers Go Golf range spans ten models, including eight all new designs that offer the brand's award-winning technology wrapped up in a range of stylish, performance-enhancing designs.
MAX (£79) 
The sporty Max range, worn on tour by pro golfer Brooke Henderson, offers a choice of four stylish designs that look and play the part. Featuring synthetic, water-resistant uppers, Ultra Flight cushioning, Goga Max insoles and durable TPU outsoles, these spikeless styles are lightweight, comfortable and perfect for year-round use. The MAX series, which includes the Max, Max – Draw, Fade, Cut and Mojo, is available in a number of colour options to compliment any look.
DRIVE (£99)
Designed for the fashion-conscious golfer, but boasting plenty of performance-enhancing features, the DRIVE range offers premium leather uppers with Skechers H2GO Shield waterproof protection, along with the brand's comfort cushioning platform and insole technologies. High-traction rubber outsoles provide excellent grip on these embellished sneaker style golf shoes.
The women's Drive is offered in eye-catching Shine, Sparkle or Shimmer models. The Shine model features quilted leather uppers with a high-shine finish, in a choice of stunning silver, pewter or rose gold colourways. The Shimmer features a glitter overlay detail on the heel section for an added touch of glamour and the Sparkle features star accents and glitter detailing on the heel panel for a fun and flashy look. All three styles are offered in half sizes from 5.5-10, plus an 11.
EAGLE (£84)
In addition to the Eagle Pro model launched in 2018 – which features Softspikes cleats – there are three new Eagle models to choose from in 2019. They all offer synthetic uppers combined with 5GEN and Goga Max cushioning, plus high-traction, durable grip outsoles. The Lag features a floral print on the side panels, and is offered in grey, navy and white, while the Honey is available in black, white and navy with a colour-contrasting collar and tongue area. The Relaxed Fit shoes boasts a roomier forefoot area for golfers with wider feet, and comes in white, navy/pink, and black/white in half sizes from 5.5-10, plus an 11.
Skechers Performance Go Golf shoes are available at Skechers retail stores and skechers.com, as well as select retail partners, including pro shops.