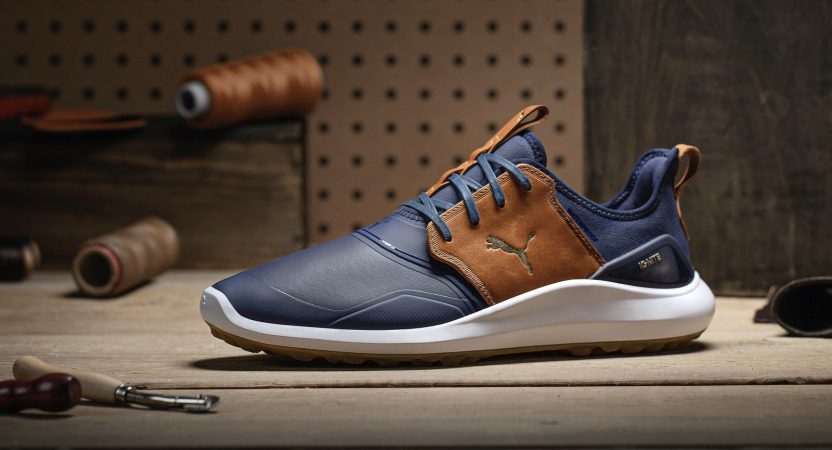 Puma Golf's new Ignite NXT Crafted shoes build on the success of its Ignite NXT shoes by featuring leather components on the uppers to create a more premium look.
Boasting a saddle made from natural leather, which is wrapped around a PWRFRAME reinforcement, Ignite NXT Crafted shoes feature the same Pro-Form TPU outsole used in other NXT models, which offers 100 directional hexagon lugs for maximum stability and traction.
In addition, a full-length Ignite Foam midsole, wrapped in micro-thin TPU film for added durability, delivers unparalleled comfort and energy return to help golfers play their best all day long.  The film, known as Soleshield, is vacuum-formed around the midsole to create a wipe-off surface for easy cleaning.
"The IGNITE NXT Crafted perfectly fuse the beauty of handcrafted shoemaking with modern development techniques to deliver optimum elegance and peak performance," said Andrew Lawson, PLM Footwear, PUMA Golf. "With the combination of style and performance these shoes will appeal to a wide variety of golfers – those who appreciate the classic look of a leather saddle shoe and those who value modern comfort and stability technologies being a part of their game."
They are available in four colour combinations: White-Leather Brown-Team Gold, Black-Leather Brown-Team Gold, Peacoat-Leather Brown-Team Gold and White-Hi-Rise-Team Gold) and come in sizes 7-12.
They are available to buy online now from www.pumagolf.co.uk and at selected retail stores, priced at £110 per pair.