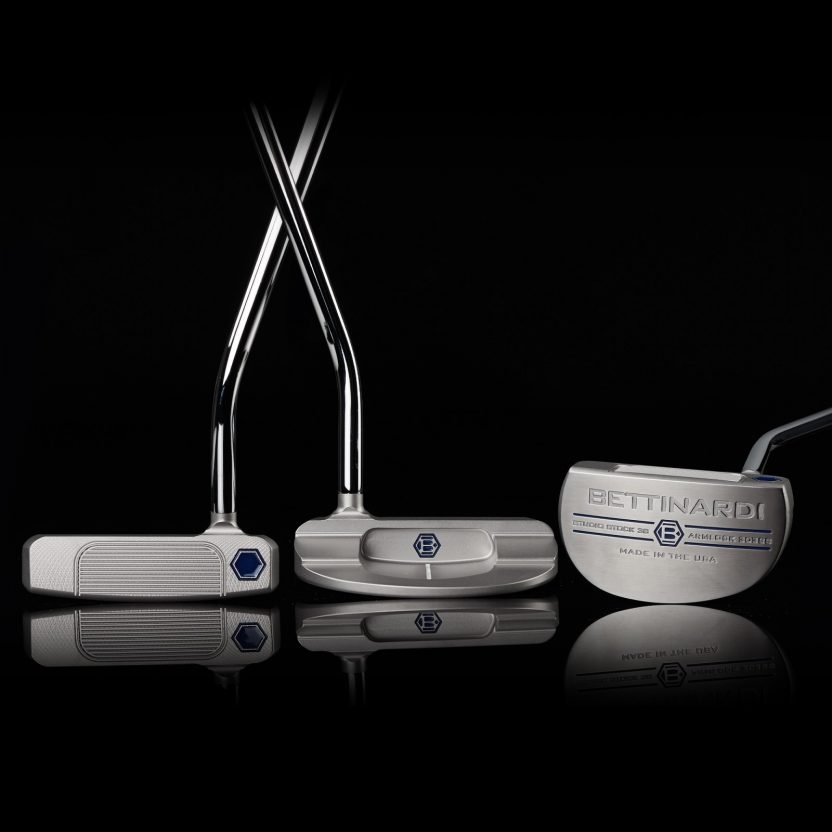 Bettinardi has extended its Studio Stock putter range to include the new Studio Stock 38 Armlock.
The SS38 Armlock, milled from a solid block of stainless steel, will now offer golfers a high-performing, compact mallet in an Armlock-style putter.  It joins the SS28 Slotback as the second Armlock option in the 2019 Studio Stock Series.
The SS38 Armlock is made from a single block of 303 stainless steel, which is precision milled to a 400g head weight with Bettinardi's patented F.I.T. Face Milling. It's rounded, compact, cavity-back mallet shape offer players high MOI, forgiveness, and easy alignment. Boasting a hand-polished platinum finish, it features a single-bend shaft with minimal toe hang. It comes with a 15-inch Deep Etched Cord Grip by Lamkin and a matching headcover.
Bettinardi Golf pioneered Armlock technology in 2013, with Bob Bettinardi and his work alongside PGA Tour player Matt Kuchar. Kuchar, who was looking for ways to become a more consistent putter after winning the PGA Tour money title in 2010, turned to Bettinardi to become his go-to source for his most trusted club in the bag. Over the last nine months on the PGA Tour, the Armlock technique of putting has won eight times, including two by Kuchar, creating a surge in demand and interest in the unique style.
"The Beauty of the Armlock style of putting is that it takes out any unwanted wrist and hand motion in the putting stroke, and putts an emphasis on the upper body in order to swing it more consistently under pressure when it matters most", said Sam Bettinardi, Vice President of Bettinardi Golf. "We are very proud to have been the first company in golf to introduce the Armlock method of putting six years ago with Matt Kuchar, and will continue promoting and investing in this method by adding the SS38 as a new mallet option."